We Were Stars to One Another: Black Opry Revue at Newport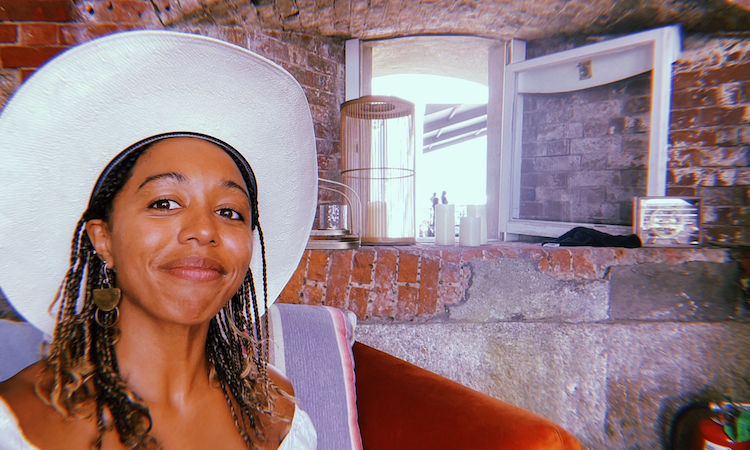 by Lizzie No, for Folk Alley
There are artists who create wildly, and artists who thrive within restrictions. I am one of the latter. I have always felt most focused when a task is bound by rules. My favorite board game is Stratego. Attending Catholic school in elementary and middle school, I always loved how everybody said the same words at the same time, presumably the same words that generations of Catholics had been reciting since the resurrection. (I had yet to find out about Vatican II.) My college years were spent writing ghazals and villanelles. I love to follow a recipe.
Even when I rebel, I like to know which rules I am violating.
I find country music deeply relaxing for this reason. The audience knows what to expect in terms of rhyme scheme, setting, and emotional scope. There are universal types: the cowboy, the brooding stranger at the bar, the "angel" woman who saves a wayward man from himself. Musically, many folk and country artists pride themselves on playing music that is emotionally complex but formally straightforward. If you are a part of the tradition, you can show up and sit in with a band you have never met.
What I came to discover as I started playing gigs, reading music journalism, and listening studiously to folk and country music in my 20s, was that the rules were not equally applied. I noticed white country artists singing about late nights in city clubs, sing-rapping over drum machines. I saw urban and suburban songwriters cosplay as coal miners. Their authenticity went largely unquestioned. These artists enjoyed broad success while female songwriters and artists of color, steeped in roots and the blues, toiled in the waiting room.
I cannot count how many times I performed a set of all-original music on harp and acoustic guitar, after which new fans would ask if I wrote my own songs or if I had heard of Joni Mitchell. All of these questions were asked in a friendly spirit of genuine curiosity. In those early days, it seemed to me that folk audiences were open-minded but cautious. They wanted to know if I was the genuine article before approving of my presence in the genre. They sometimes had a hard time believing that I had done my homework.
My first two albums were recorded with an inviolable rule in mind: no co-writers and no synthesizers. It makes me laugh now to look back on the number of times I said no to a perfectly lovely arrangement suggestion because it included electronic elements. I turned down co-write after cowrite. I kept an iron grip on creative decisions. I needed the world to know that my songs were authentically folk and authentically mine. I told bandmates that these restrictions on my own process came from my genuine love of the form. What I admitted to myself was that I was afraid of spending my whole career in the waiting room.
I refused to give skeptical audiences reason to question my folk bonafides.
As I released two albums, toured the country, and gained a following of genuine, joyful, committed, life-affirming fans, I still clung to my rules. Many of my dreams were coming true. I had showcased at AMERICANAFEST, I had toured with Iron & Wine, I was guest hosting the Basic Folk podcast, I was collaborating with some of my favorite artists. All the while I feared being kicked out of the folk music club. Knowing how few Black women enjoy successful careers in folk music made me afraid of losing what I had gained through years of hard work.
The call to perform at Newport felt like an anointing. Playing Newport Folk Festival is a symbol in the music community not only of your ability to put on a great show, but also of the broader folk music world's acceptance of you as an artist. That the Black Opry was invited to showcase at Newport signaled the opening of a door. I knew that eyes would be on us and that some would be wondering if we were the real deal. I know what it's like to pour out my heart onstage and still have my authenticity questioned. So does every artist in the Black Opry coalition.
Each of us has had to prove our worth over and over again. Each of us has had our hearts broken by this industry. Each of us wants to be seen and heard and understood.
The Black Opry Revue backing band, led by Ping Rose, introduced the set with a tight instrumental groove adorned with slide guitar. My eyes filled with tears the moment Autumn Nicholas started singing. One by one, we stepped up to the stage, cheering for each other without reservation, like Black families do. Nervousness gave way to hope in my heart. The largely white audience was receiving each performer with gratitude. More importantly, we were stars to one another.
I stepped onstage, introduced myself, and tuned the harp one last time. When I tapped the tuning pedal to unmute the instrument, the ghostly A minor hummed. I sang the first verse over a harp arpeggio: "she's looking down a deep well / she don't wanna be saved."
Of all my songs, "Deep Well Song" (from Vanity, 2019) is one of the most traditional in rhyme scheme, syllables, and chord structure. But at the end of the second verse, the band crashes in like a wave of rock and roll. Ping's guitar solo screamed eloquently to my left, and I heard my own voice leaping out over the fort. It was an ecstatic yawp. I felt light-headed as I exhaled all of the anticipation and all of the questions about whether or not I belonged.
Seeing the audience at the Harbor Stage on their feet was a mountaintop experience. The Black Opry Revue was a showstopper. The crowd's response was beyond what I could have imagined.
But what surprised me most was the freedom I felt in being loud, in going electric, in stomping around onstage in my Timberland boots and microbraids, in disregarding genre. It seems obvious but it bears repeating: freedom is always better than a mastery of the rules.
---
Lizzie No is a singer, songwriter, and guest host of the Basic Folk podcast (available on the Bluegrass Situation network or wherever you get your pods). She performed at Newport Folk Festival for the first time in 2022 as part of the Black Opry Revue. She has released two albums and has new music coming August 19 on Colemine/Palmetto Street Records. Her tour dates are available on LizzieNo.com/tour