The Stray Birds Announce New Album 'Let It Pass' Due Out In September and Fall Tour Dates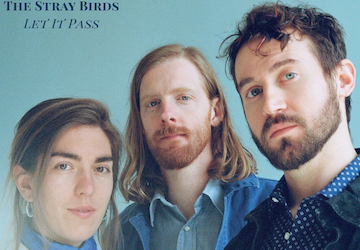 Nashville, Tenn. — If The Stray Birds were going to make another album, there was only one way it would happen: together. The idea was at once a challenge, an ultimatum, and a survival mechanism for a band at the crossroads. Write the record collaboratively, or don't write it at all. Let It Pass, the record resulting from the crossroads, is The Stray Birds' most powerful, personal, and cathartic collection yet. Releasing September 7th on Yep Roc Records, Let It Pass charts the trio's tumultuous emotional journey in the years since the release of their acclaimed 2016 album Magic Fire, a period which saw fiddler/guitarist/banjoist/vocalist Maya de Vitry and fiddler/guitarist/mandolinist/vocalist Oliver Craven end their romantic relationship while choosing to continue their musical one. Along with bassist/banjoist/vocalist Charlie Muench, the pair had to face down an uncertain future and reevaluate what it meant to create art together.Let It Pass, the band's fourth studio album, developed over the course of what totaled to nearly a month of dedicated writing sessions, the trio sat around a table and, for the first time, created an entire album from scratch. Where previously the band had been a showcase for the songwriting of de Vitry or Craven, here all three members brought fragments of melodies and sketches of verses, often generating music and lyrics together in real time. Every phrase, every word, every melodic turn and chord change had to travel through their collective imagination in order to make it to the page.
"I wanted everybody to experience wrestling with our collective state of mind and the uncertainty that goes into writing music together," explains de Vitry. "It's a delicate thing for people to create together like that, but seeing each other in our moments of frustration and in our creative breakthroughs created even more trust and possibility than we'd ever had before. It enabled us to peel everything back and make the most honest music we possibly could."
Let It Pass is available for pre-order here.
###
On Tour:
Mon. 8/4-6 Canmore, Alberta Canmore Folk Festival
Fri. 8/17 Manchester, VT Green Mountain Bluegrass Festival
Sat. 8/25 Asheville, NC Jam in the Trees
Thu. 9/6/18 Philadelphia, PA PFS Listening Room (Philadelphia Folk Society)
Fri. 9/7/18 Saratoga Springs, NY Cafe Lena
Sat – 9/8/18 Elizabethtown, NY Otis Mountain Getdown
Sun – 9/9/18 Montreal, QC Petit Campus
Wed – 9/19/18 Louisville, KY Zanzabar
Thu – 9/20/18 Chicago, IL The Hideout
Fri – 9/21/18 Minneapolis, MN The Cedar
Sat – 9/22/18 Lincoln, NE Lincoln Calling Festival
Sun – 9/23/18 Columbia, MO Rose Music Hall
Sun – 9/30/18 Cleveland, OH The Music Box
Mon – 10/1/18 Pittsburgh, PA Club Café
Tue – 10/2/18 Washington D.C. Union Stage
Wed – 10/3/18 Charlottesville The Southern
Thu – 10/4/18 Lancaster, PA Tellus 360
Fri – 10/5/18 New York, NY Mercury Lounge
Sat – 10/6/18 Boston, MA Sonia
Wed – 10/10/18 San Luis Obispo, C SLO Brewery
Thu – 10/11/18 Los Angeles, CA The Resident
Fri – 10/12/18 San Francisco, CA Brick and Mortar
Thu – 10/18/18 Portland, OR The Old Church
Fri 10/19/18 Spokane, WA The Bartlett
Sat – 10/20/18 Prosser, WA The Roots Cellar
Sun – 10/21/18 Seattle, WA Sunset Tavern
Thu – 11/1/18 Wray, CO 4th and Main
Fri – 11/2/18 Denver, CO Daniels Hall
Sat – 11/3/18 Basalt, CO The Temporary
Sun – 11/4/18 Ft Collins, CO Downtown Artery
Fri – 11/9/18 Houston, TX The Greenroom at Warehouse Live
Sat – 11/10/18 Austin, TX The Mohawk
Thu – 11/15/18 Atlanta, GA Eddie's Attic
Fri – 11/16/18 Nashville, TN The Basement
Sat – 11/17/18 Asheville, NC The Grey Eagle