2017 30A Songwriters Festival: Robby Hecht & Caroline Spence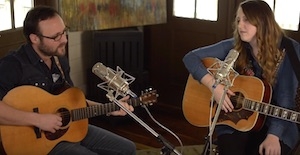 There's something magical about two voices pairing up when they fit so comfortably together in both timbre and technique. Names like John Prine and Iris DeMent, Paul Simon and Art Garfunkel, and Gillian Welch and David Rawlings all come to mind when the topic of fantastic folk duos comes up. Sometimes, the artists make it official; sometimes, they keep it casual. Either way, when it's right, it's right.
Such is the case with Robby Hecht and Caroline Spence, two Nashville-based singer/songwriters who have been writing and singing together now and then for the past handful of years. The two have a mutual admiration thing going on, each describing the other as one of their very favorite folks to collaborate with. Hecht draws his line of praise all the way out: "Caroline is one of my all-time favorite people to write, sing, drive, and hang out with so, for me, making music and performing together is just the best."
"I love singing with Robby because I think our voices have a natural way of balancing each other out and what results is almost like one voice," Spence explains. "I think the same goes when we sit down to write a song — there is a natural balance between what he brings to the table and what I bring, and what results is something different than what both of us would have done on our own, but something that also feels true to our own individual work."
At this year's 30A Songwriters Festival, Spence and Hecht sat down together for a trio of performances: "Trying," "Parallel Lines," and "Holding You." Each has a tenderness to their touch, both as writers and singers, so the result feels like the gentlest of on-shore breezes.
Videos
Audio
Trying
Parallel Lines
Holding You