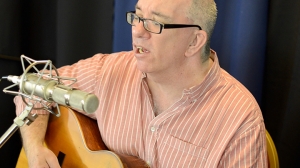 James Keelaghan takes traditional folk and brings it into the current century. The Canadian singer/songwriter tells stories that are designed to be passed from one generation to the next – just as folk songs have been carried on for centuries.
Called Canada's finest singer-songwriter by some of the most respected music journalists of the last 50 years, Keelaghan is an artist who has proven to be a man for all seasons. His masterful story telling has, over the course of nine recordings, been part of the bedrock of his success, earning Keelaghan nominations and awards – including a Juno – and acclaim from Australia to Scandinavia. Possessed of an insatiable appetite for finding the next unique story line, Keelaghan forges his pieces with brilliant craftsmanship and monogrammed artistic vision, making him one of the most distinctive and readily identifiable voices on both the Canadian and international singer-songwriter scenes.
Listen for Matt Watroba's interview with James Keelaghan and enjoy videos recorded at the 2013 Folk Alliance International Conference in Toronto. James is joined by David Woodhead (bass) and Hugh McMillan (octave mandolin).
Videos
Audio
Interview and Performance
The Boston Burgler
Mi Vida
Gathering Storm