Island Music for Your September Bandcamp Friday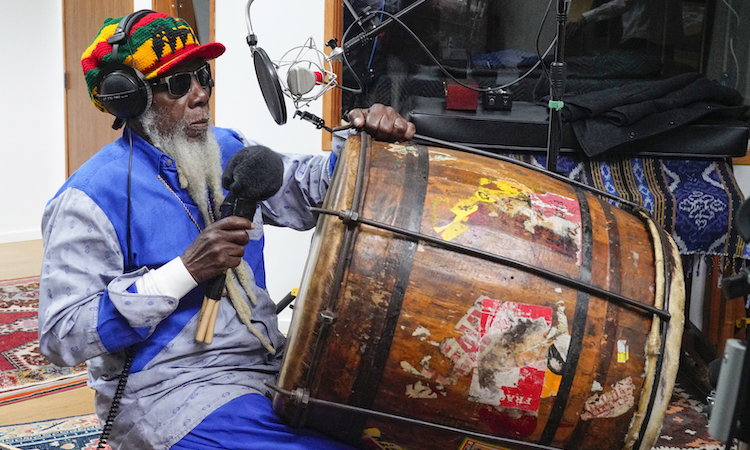 With COVID roaring back and life shutting down again, you may be wishing you could escape to an island somewhere for a bit of rest and relaxation and to avoid the crowds! So with Bandcamp Friday returning again to help artists in need, here's a roundup of Island Music from around the world to settle your nerves. It's not all palm trees and sandy beaches, I wanted to include lesser known island settings like Denmark and Manhattan, but of course we had to get in albums from Jamaica, Cuba, and La Réunion as well for that tropical vibe. Enjoy the tunes and don't forget to support the artists!
---
Bonbon Vodou – Cimetière Créole

I've recently fallen head over heels in love for the music of Réunion Island, off the coast of Madagascar in the Indian Ocean. Réunnionais music marries the easy going feel of island life with a hard-cutting political edge. Rooted in the music of African slaves, but influenced as well by Indian and Arabic traditions, the harder edges of the music are softened by the gentle sssh-sssh sound of the kayamb, a rattle made from sugar cane reeds. The affable Réunnionais artist Zilien Biret was my recent introduction to Réunion's maloya music. His vocals and stories of the island transported me and I vowed to learn more. Based in France, with a new album coming soon Bonbon Vodou is now one of my new favorite groups. They base their music in the maloya tradition, a world of songwriting so terrifying to the French that they banned it for decades on the island. Their new album, Cimetière Créole has plenty of that maloya sound, with the kayamb gently swaying the background, but also brings in more cosmopolitan sounds. The star of course is the transporting vocals of Oriane Lacaille, lead singer of Bonbon Vodou and daughter of the legendary Réunnionais singer René Lacaille. She grew up in the music and brings an authentic connection to the tradition. As a duo, she's joined by French guitarist and singer JereM Boucris. The album comes out September 17, but you can pre-order it on Bandcamp now. The standout track "Fonkèr" featuring the legendary Réunnionais singer and cultural figure Danyèl Waro might be the perfect introduction to this music and it's absolutely sublime.
---
Josienne Clarke – A Small Unknowable Thing

I've been a fan of UK folk singer Josienne Clarke for ages; there's just no getting over her voice once you've heard it. For a long time she recorded as a duo with a male guitarist, but over time came to realize that she had her own voice (and was tired of the UK press constantly focusing on his contributions to their duo over hers). In a sense, A Small Unknowable Thing is her arrival album, her statement to the UK folk world that this is HER music 100%. That's a beautiful thing and she more than proves herself with the new album. She weaves in indie elements, a bit of rock guitar, crashing drums, a dash of jazz, introspective songwriting, but throughout it's that crystal clear purity of her folk voice that rings through the hills. It's a breakup album in some ways, so there's anger here, a bit of jaded irony from her long battles against sexism in the UK folk scene, and resignation that even if you make the best music for yourself, some people still might not get it. But there's also the bravery of reinventing yourself, of rediscovering your own muse with no limitations. And that is a wonderful moment to celebrate!
BONUS: I'd completely missed that there's a new album out from Scottish singer, harpist, and experimentalist Rachel Newton. Made during lockdown, it's a surprisingly full album that taps into a huge range of influences while keeping close to ancient sources.

---
Ras Michael – Live by the Spirit

Of course Jamaica has to be on any list of Island Music, for what other island on earth has had such an influence on music globally? But even with the global reach of reggae, dub, dubstep, and dancehall, it's surprising how little is said about the earliest roots of Jamaican music. Though most folks speak of reggae originating in Bob Marley, Marley himself used to talk about the One Drop, the beat of the music that came straight from the religious traditions of Rastafarianism. Nyabinghi chant and drumming lies at the heart of these religious traditions, the music of gatherings of Rastas and the underpinning of the religion. Nyabinghi drums were first recorded in the 1950s by Count Ossie, mixing traditional drumming with jazz, and the rhythms have been adopted by Marley, Jimmy Cliff, and others to signify Rastafarianism in the music. If you've never heard this music before, the new album from Rastafarian elder Ras Michael is the perfect introduction. Recorded at Hen House Studios in Venice Beach, California (Michael lives in Los Angeles), the drums sound great in a studio setting and Michael's soft hymn singing and preaching speak to the Biblical interpretations at the heart of Rasta music. Michael's revered for his contributions to Rastafarian music and culture. He was the first Rastafarian to have a radio show, he attended nyabinghis at Count Ossie's camp, his group The Sons of Negus sang the Ethiopian national anthem at the historic One Love Concert in 1978, and he's collaborated with everyone from Marley to Peter Tosh, Burning Spear, and more. Interestingly, he left Jamaica years ago to settle in Los Angeles, preaching the gospel of Rastafarianism in Compton and South Central LA. On the album, Michael is joined by Peter Tosh drummer Santa Davis, African traditional drummers from the Black Panther soundtrack, and jazz musicians from the area. It's a soothing album, but so full of depth and heart. Michael is a carrier for a great tradition of Jamaican music that's not nearly well enough known.
BONUS: I worked PR for this album so maybe shouldn't recommend it here, but any chance to find new recordings of the legendary Bahamian guitarist Joseph Spence, from Smithsonian Folkways no less, should be a good thing, and these are great recordings.

---
La Dame Blanche – Ella

I haven't kept up much with Cuban music, but I've been gratified to see that my favorite Cuban artist of all time, La Dame Blanche, has kept up a steady stream of great music recently. I've mentioned her in the Bandcamp Friday column before, but it's great to have a new full-length album from her. Based in France, La Dame Blanche (aka Yäité Ramos Rodriguez) is a member of the Cuban community in Paris. One of the first big Cuban hip-hop groups, Orishas, also comes out of the Parisian Cuban community and Rodriguez came up with them, bringing band members on for her earlier albums and working with their producer Babylotion. Rodriguez and Orishas are both adept at blending the folk traditions of Cuba with hard-hitting hip-hop, rapping and singing in equal measure, using roof-shaking vocals to punctuate Spanish hip-hop verses. It's a formula that worked well for Orishas and works even better for Rodriguez, plus she comes to it authentically. As the daughter of Buena Vista Social Club's musical director and trombonist Jesús 'Aguaje' Ramos and the niece of popular Cuban artist and former Los Van Van lead singer Mayito Rivera, she grew up in a deeply musical family in Havana, immersed in Cuban music but listening to American hip-hop as well. She's an artist used to crossing multiple worlds, moving between Cuba and Paris fluidly, crossing genres at will. Her new album, Ella, is a tribute both to her mother and to her own womanhood, an effort to push out from under the shadow of the famous men in her family a bit and to talk about the issues impacting Afro-Cuban women today. She's lost none of her fire over the years, and the album hits hard politically, but as she said in an interview for Pan African Music, "c'est un album pour danser, c'est pas la guerre totale ! Je parle aussi de l'amour, de la terre, de beaucoup de choses…"
BONUS: This acclaimed and recent album of field recordings from the Guantanamo region of Cuba was a revelation and, though pricey, comes with a 50 page booklet of photos and information. Sounds great too!

---
Mike Hanapi with Kalama's Quartet

I love Hawaiian music and looked all through Bandcamp for new albums, but maybe Hawaii's roots musicians don't use Bandcamp much? We've seen some great 2021 albums from much-Grammy-nominated Kalani Pe'a and one of my favorite artists Kuana Torres Kahele, but you'll have to grab them on Spotify. On the other hand, Mississippi Records has this album of remastered 78rpms from the great Hawaiian lap steel guitarist Mike Hanapi and his band Kalama's Quartet. Mississippi Records is a strange label, reissuing an amazingly eclectic mix of music from around the world from their humble, cash-only shop on Mississippi Street in Portland, Oregon. It's great to have them dipping into Hawaiian music, as unfortunately the huge influence of Hawaiian music on American roots music has largely been forgotten. The slide guitar and lap steel guitar both come from the strange genius of Hawaiian Joseph Kekuku who discovered the principle of the metal slide on guitar strings after dropping a metal bar on a railroad track in 1889. The music was later spread via vaudeville in the early 1900s which is where Mike Hanapi comes in. A virtuosic lap steel guitarist (and former saxophonist), Hanapi played at the Chicago Exposition in 1911 and was part of the craze for Hawaiian music into the 78rpm era. Kalama's Quartet was known for Hanapi's lap steel playing, but also their beautiful vocals, including that high falsetto that's come to mark traditional Hawaiian music. The music here is masterful and very nicely restored from the original 78s. Kalama's Quartet played some of the hapa haole (half white) Hawaiian music that was a key part of the Hawaiian cultural craze in America all the way into the 1950s, but what's presented here seems more traditional in a sense. Listen to a track like "Kalama'ula" though and I guarantee you'll hear the inspiration behind early country and western music. That plaintive steel guitar and loping guitar runs are easy to hear even in today's country music and are a clear debt owed to early Hawaiian musicians.
https://www.youtube.com/watch?v=nPB-niJSlS4
---
Mia Guldhammer & Morten Alfred Høirup – Tral, Tråd & Traditioner

Even though I've been to the Danish city of Copenhagen a couple of times, I hadn't realized it was on an island! Copenhagen lies on the island of Zealand or Sealand, just across the water from Sweden, and is the 13th largest island in Europe. Much of Denmark is made of islands, which might account for the seafaring prowess of the infamous Viking Danes back in the day. Hailing from Copenhagen, the Danish folk duo of Mia Guldhammer & Morten Alfred Høirup have a new album of songs and lilting (diddling) that I've been enjoying a lot. Morten's an old friend and a passionate proselytizer of Danish folk music, one of the lesser known and more neglected Scandinavian folk music traditions. I first heard his surprisingly powerful guitar with fiddler Harald Haugaard in Seattle at the Northwest Folklife Festival, and talking to Morten backstage he instilled a love of Danish folk music in me that further albums from Morten himself and his duo Haugaard & Høirup, not to mention multiple trips to Denmark, has only strengthened over the years. Morten's worked in instrumental dance music for most of his career, but he loves to sing and used to always include a song or two on his albums with fiddlers and accordion players. Here he's given the chance to really dive into the Danish song repertoire, and he brings a lot of his humor and good nature to the selections. The songs speak mostly of love, and though they're in Danish, the duo tell wonderful stories about each song in the liner notes. The album's title is Tral, Tråd & Traditioner, which roughly translates to "Diddling, Fiery Guitar Music, and Traditions" and though the guitar and the traditions are obvious, the diddling brings an extra layer of fun to the album. Morten knows instrumental music inside and out and together with Mia they've worked dance melodies into the songs, often as non-vocalized lilting or diddling. I don't know Mia Guldhammer's background as well as Morten's but she's a noted Danish folk singer and interpreter of the older repertoire of Danish song at Viking fairs in the country. It's a fun album, full of life, the equivalent of a fine meal out with good friends in Copenhagen at a table overlooking the water.
BONUS: Mixing with Scandinavian minimalism and folk metal dramatics, modern Irish traditional music has been getting a bit dour recently. Happily Kíla's lead Gaelic singer, the great Rónán O Snódaigh, has a new album full of light and lilt and fine mouth music to enjoy.

---
Sweet Megg and Ricky Alexander – I'm In Love Again

Manhattan counts as an island right? Well in any case, I think it will be hard to resist this album of traditional early jazz from New York's jazz scene. I've been a fan of Megg Farrell, aka Sweet Megg, for a while now and worked with her when she was recording country and Americana music. It's rare that an artist can live comfortably and stand out in two totally different genres, but Megg Farrell's country songs are a blast, and as Sweet Megg she's a renowned NYC jazz crooner. She trained in Paris and a fixture of Mona's jazz bar in Manhattan's East Village where she met saxophonist Ricky Alexander. This was early on in Megg's career and now the two have returned to her NYC jazz roots with I'm In Love Again for New York early jazz label Turtle Bay Records. It's a blast of an album, running through old jazz covers with a delightfully playful sense of fun and a ribald sense of humor. Appearances from mad genius Blind Boy Paxton help as well; Paxton's surely a repository of great knowledge on the saucier origins of early American music (though he's best known for his stringband work currently). I can imagine New York City early jazz devolving into a breezy Woody Allen parody of itself, but Farrell easily transcends the stereotypes, revelling in the pure fun of jazz. Hey, there's a reason this music horrified the squares and was regularly banned back in the day! It's fun, kickass dance music meant to party to, and that's just what these folks are up to!
BONUS: Growing up in Cape Cod, MA (also technically an island), Naomi Westwater never felt she fit in as a multiracial artist. But she's coming into her own now with an EP that features powerhouse vocals, influences from folk to soul to blues, and lyrics about social justice, climate change, and her own experiences.

---