'I Am a Pilgrim: Doc Watson at 100'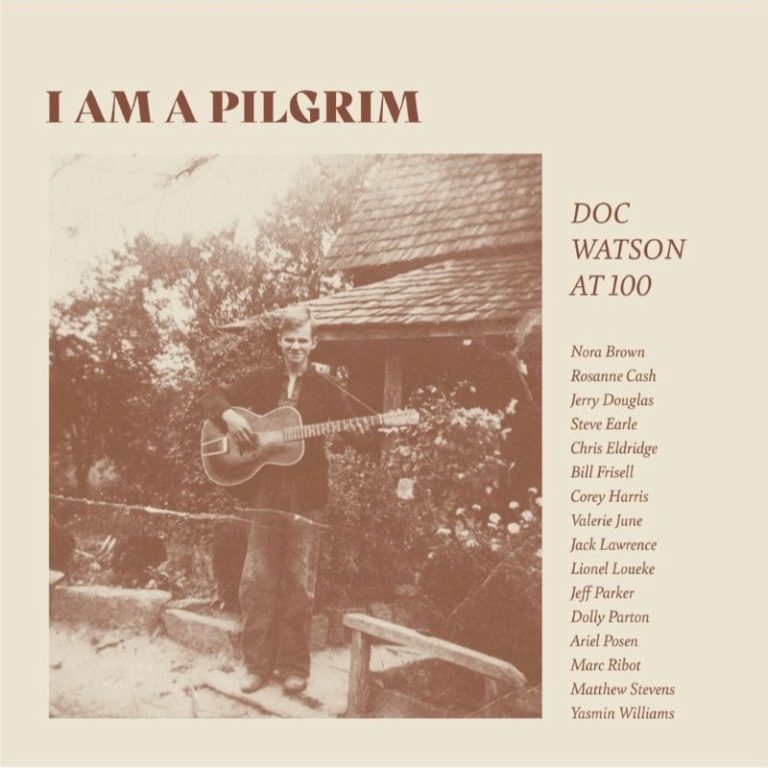 In the early 1960s, folklorist Ralph Rinzler found his way into a little rural corner of western North Carolina where he had come to add the music of a local banjo player, Tom Ashley, to his collection of music from that region. On that day he discovered a guitarist whose fluid fingerpicking and flatpicking styles would eventually influence generations of guitarists: Doc Watson.
Arlen Lane "Doc" Watson would have been 100 today, March 3, 2023. He started playing guitar as a young child, absorbing the music of Jimmie Rodgers, Mississippi John Hurt, the Delmore Brothers, the Carter Family, and others.
By the time he was a teenager, Watson played his guitar with his neighbor, the fiddler Gaither Carlton, who played the ballads and tunes of the mountains and from which Watson absorbed his own love of old time music. By the time Rinzler met him, Watson was playing electric guitar in Jack Williams' dance band, where Watson had learned to play fiddle tunes on his guitar. Rinzler persuaded Watson to trade his electric guitar for an acoustic, and Watson bought a Martin D-18 that he played on his first album.
With his lightning flatpicking and his fluid right hand movements, Doc Watson created a style of playing that innovated around the traditional songs and tunes he absorbed growing up, intertwining blues and jazz notes within the sonic architecture of bluegrass and old time songs.
His musical style and baritone voice won him a ready audience in folk circles in the early 1960s, and his performances on the Nitty Gritty Dirt Band's 1972 album Will the Circle Be Unbroken brought him wide recognition among a new generation of musicians. Watson earned seven GRAMMY Awards, including the Lifetime Achievement Award in 1974.
---
---
To celebrate what would have been Doc Watson's 100th birthday, FLi Records//Budde Music announces I Am a Pilgrim: Doc Watson at 100, a tribute album that honors Watson's deep influence. An impressive collection of musicians from a range of musical genres illustrates the depth and suppleness of Watson's music as it crosses from bluegrass into jazz and beyond.
The album features Nora Brown, Rosanne Cash, Jerry Douglas, Chris Eldridge, Steve Earle, Bill Frisell, Corey Harris, Valerie June, Jack Lawrence, Lionel Loueke, Jeff Parker, Dolly Parton, Ariel Posen, Marc Ribot, Matthew Stevens, and Yasmin Williams performing songs that Watson loved and performed.
Executive producer of I Am a Pilgrim: Doc Watson at 100 Mitch Greenhill hopes the album serves two purposes: "I want people to get a sense of how influential his music has been beyond the bluegrass, old-time, country world. I'm also hoping that people who are fans of some of the artists on the album will be introduced to Doc's music and seek out Doc's music."
It's fitting that the song releasing on Watson's 100th birthday is one he played in every one of his performances: "I Am a Pilgrim." In their gently rolling version, Rosanne Cash and John Leventhal evoke the song's deep yearning for traveling "to that other shore" the singer thirsts to visit. Leventhal's opening guitar notes recall the style of country gospel in which the opening notes announce the song's key. His layers of lilting picking create a strolling blues rhythm that mimics the pilgrim making their journey. Cash's vocals convey the longing of the pilgrim; seems clear that Watson would certainly have been proud of Cash and Leventhal's version.
I Am a Pilgrim: Doc Watson at 100 will be released on April 28 to coincide with MerleFest, the music festival in Wilkesboro, North Carolina, that Watson founded in 1988 to honor his son, Merle, who died in an accident in 1985.
###
I Am a Pilgrim: Doc Watson at 100 is available for PRE-ORDER HERE.