Folk Alliance International Conference 2020 Preview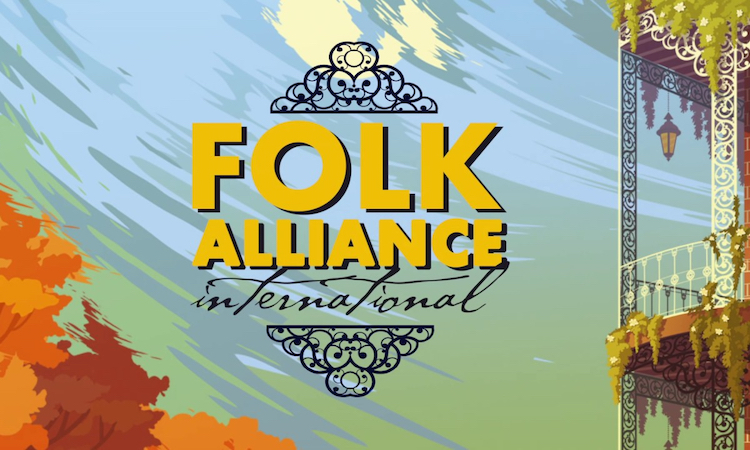 "The Story of People and Place" – that's the theme at the 32nd Folk Alliance International Conference. This year, the conference is happening in the vibrant and unique city of New Orleans, Louisiana. Great food, strong drinks, music everywhere you turn, and, of course, generations of intricate and one-of-a-kind history – it's going to be a remarkable experience.
Folk Alley will be there, meeting up with old friends, making new ones, and, hopefully, getting to hear a whole lot of amazing music. Actually, there's really no "hope" involved at the Folk Alliance International Conference; hearing good music is absolutely guaranteed.
There are two kinds of showcases at the conference: the "Official" showcases, which go from mid-afternoon till about 10pm. And then there are the "Private" showcases which start around 10:30pm and go until 3am. (3am???!? Are people really awake at 3am…by choice?!?)
I haven't been to the Folk Alliance International Conference for several years so that means I'm even more excited to be there this year. The conference theme, "The Story of People and Place," will explore themes of diversity, inclusion, immigration, intersection, and influence. According to the conference's website: "Ultimately, each person has a story (especially as folk artists) of who they are, where they are from, and how the places they in shape them."
There are many, many, MANY musicians I'm eager to hear at the conference this year; frankly, there are SO many I know I won't get all the way through my list. But I'll do my darndest and I'll share my observations and experiences with you, too.
In the meantime, before the conference begins, I decided to put together a playlist of all the musicians I HOPE to hear. The first 20 on the list are musicians we don't currently play on Folk Alley (not regularly, anyway). And so these are the musicians I'm going to focus on seeing. The last 7 musicians are musicians I'd LOVE to hear in concert…but since we already play them on Folk Alley, I may or may not get a chance to experience them at the conference.
Ready? Here we go! (… oh, and you can listen to these artists in my Spotify playlist at the bottom of this post!)
Darling West "Rolling On"
Check out this alternative folk duo from Oslo, Norway! In 2016, they took home a Norwegian Grammy for their album Vinyl and a Heartache, and they've got a new album out this month. I really enjoy their harmonies and Americana-country vibe that doesn't sound like it's from the U.S of A.
Anne-Marie Kivimaki "Killiainen lemmenlintu"
Anne-Mari Kivimäki is from Finland and the music she makes with her Palomylly band is hypnotic, trance-inducing, and, frankly, intense. I'm curious to hear these musicians in concert; will their unique sound translate effectively from recording to live show?
David Davis and the Warrior River Boys "The Lonesome Cry of the Whippoorwill"
Tried and true bluegrass from Alabama, headed by the "foremost practitioner of Bill Monroe's mandolin technique" and, as such, a band that promises to be a lot of fun live in concert.
Emily Mae Winters "Roses in the Snow"
Emily Mae Winters is a fast-rising star on the UK and London folk/Americana scene. I like the intensity of her voice and, in this particular track, the traditional English folk vibe it recalls.
Emily Wurramara "Lady Blue"
Emily Wurramara is from Brisbane, Queensland, Australia. Her aim is to spread positivity through music and she's sharing the language and culture of her native Wannandilyakwa people around the world.
Nefresh Mountain "I Want to Hear Somebody Pray"
This New Jersey bluegrass band "brings together the worlds of American Roots music with Jewish heritage and tradition." I was intrigued by the description of this band's sound and then when I heard a recording, I was even more interested in hearing them live.
Minor Empire "Ag Elime Mor Kinalar Yaktilar"
Minor Empire is a band out of Toronto, Canada, and they describe their sound as "electro-folk." Admittedly, they might be a little too "hip" for me…but I'm excited by the opportunity to hear a totally different kind of "folk" music.
Kalyn Fay "Highway Driving"
Kalyn Fay describes herself as an "Indigenous songwriter." She's from Tulsa, Oklahoma, and she has a rich, dark voice, one which does justice to the intense stories she shares about her Cherokee roots.
Iona Frye "Guise of Tough"
Meet the youngest ever winner of Scots Singer of the Year at the MG ALBA Scots Trad Music Awards! Iona Frye is from Glasgow, Scotland and she focuses on recreating the traditional Scottish ballads she heard growing up. She's young, but accomplished in every sense of the word, and I'm eager to hear her perform in concert.
Jig Jam "Someday"
This band is interesting to me because they blend traditional Irish music with the Bluegrass and Americana sounds of the American south. They've been described as creating "I-Grass" – aka, Irish influenced Bluegrass. I want to hear what "I-Grass" sounds like.
Alice Skye "Poetry by Text"
Another young musician! And another musician who seems to be older than her actual years. Alice Skye is from Melbourne, Victoria, Australia and while some of her lyrics seem geared toward a much younger audience (than me), I wonder if her music might transcend her youth.
Oshima Brothers "These Cold Nights"
As a former "Mainer," I have a soft spot in my heart for musicians from Maine, so I knew I'd have to make time to go hear this brother duo. And, after listening to a few of their songs, I can't wait to hear them in a concert setting. Sibling harmonies, thoughtful lyrics…this duo is one I'm most excited about.
Rahim Alhaj "Time to Have Fun"
Rahim Alhaj is an NEA National Heritage Fellow, a Smithsonian Folkways artist, and an Iraqi oud virtuoso. His music seems to embody this incredible mix of delicacy and power and I wonder about the kinds of stories this "Global Roots Artist" from Albuquerque, New Mexico might share from stage.
Dwayne Dopsie "My Louisiana Baby"
Dwayne Dopsie is "America's Hottest Accordionist." He and his band are from Lafayette, Louisiana – hometown favorites, for sure, who explore the connections between rhythm and blues in a traditional Zydeco setting.
Mariel Buckley "Driving in the Dark"
"Retro-hued country-roots" – that's how some writers have described Calgary based musician Mariel Buckley. She's a storyteller, I think, and has found a platform on the folk music stage.
Rainbow Girls "Downhome Girl"
One word: Harmonies. That's what I'm most excited about when it comes to the Bodega, California indie folk band Rainbow Girls.
Jay Gilday "Guess I'll See You"
I'm a sucker for musicians who've come from different walks of life and in the case of Edmonton, Alberta, Canada musician Jay Gilday, he's done a whole lot of walking. Gilday is also a mailman…and it's some of his experiences in that role that have inspired his unique world perspective.
Hat Fitz and Cara "Hold On"
I knew, from the moment I saw that this Queensland, Australia duo described their music as "convict rhythm and roots" that I had to make time to see and hear them at the FAI Conference this year. What do convict rhythm and roots sound like? I'll find out.
Skye Consort and Emma Bjorling "Cast Iron Stove"
From Montreal, Quebec, Canada, the band Skye Consort teams up with singer Emma Bjorling to share arrangements of songs and tunes from Sweden, Norway, Ireland, Scotland, Canada and even the USA. With original music as well, not to mention a band that includes some REMARKABLE instruments (nyckelharpa and bouzouki), what's not to love?
The Revelers "At the End of the River"
This is the "ultimate Louisiana supergroup." The Revelers are from Lafayette, Louisiana and they've been having fun – and giving audiences the chance to have fun, too – for a nearly a decade now. I'm excited to get to know this hometown band.
Here are the artists we already play on Folk Alley and the artists I would LOVE to hear and see at this year's Folk Alliance International Conference.
Crys Matthews "Easy"
Catherine MacLellan "The Road is Divided"
Ray Bonneville "Who Do Call the Shots"
Mary Bragg "Faint of Heart"
The Mastersons "Perfect"
Rose Cousins "Chains"
Mary Gauthier "Got Your Six"
---