Folk Alley Radio Show #190627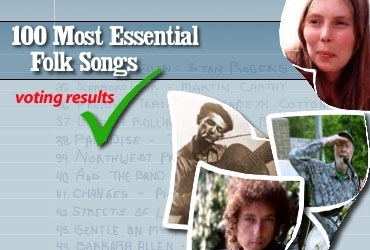 This week on Folk Alley, in hour one we revisit "Folk Alley's 100 Most Essential Folk Songs," compiled from a survey of our listeners. Hear favorites from Joan Baez, Donovan, Phil Ochs, and Joni Mitchell; plus we count down the Top 10 essential folk songs, as voted on by Folk Alley listeners.
In hour two, hear new music from Mavis Staples, Joel Rafael, and The Small Glories; exclusive Folk Alley recordings from Anais Mitchell and Jefferson Hamer performing songs from their album 'Child Ballads' recorded at the Folk Alliance International conference; plus favorites from Jim Kweskin, Taj Mahal, Doc Watson, and much more.
PLAYLIST
Artist – Title – Album – Label
Hour One:
John Denver – Leaving on a Jet Plane – Rhymes & Reason – BMG
Donovan – Catch The Wind – The Real Donovan – PYE
Phil Ochs – There But For Fortune – There But For Fortune – Elektra
Joan Baez – Diamonds and Rust – Diamonds and Rust – A & M
Joni Mitchell – Both Sides Now – Both Sides Now – Reprise
Tom Paxton – The Last Thing On My Mind – The Best of Tom Paxton – Elektra
Ian and Sylvia – Four Strong Winds – Greatest Hits – Vanguard
Pete Seeger – We Shall Overcome (live) – Greatest Hits – CBS/Sony
Leonard Cohen – Suzanne – The Best Of – CK
Gordon Lightfoot – Early Morning Rain – Lightfoot! (LP) – United/Art
Kingston Trio – Where Have All the Flowers Gone – Anthology
Pete Seeger – If I Had a Hammer – Sing-A-Long – Smithsonia
Steve Goodman – City Of New Orleans – Steve Goodman
Bob Dylan – Blowin' In The Wind – Greatest Hits – Columbia
Woody Guthrie – This Land Is Your Land – Save Our History: Save Our Sounds
Hour Two:
Jamestown Revival – Crazy World (Judgement Day) – San Isabel – Jamestown Revival
Kittel & Co. – The Boxing Reels – Whorls – Compass Records
I'm With Her (Sara Watkins, Sarah Jarosz and Aoife O'Donovan) – Crescent City – See You Around – I'm With Her/Rounder
Leyla McCalla – Me and My Baby – The Capitalist Blues – Pias America
Taj Mahal – Lovin' in my Baby's Eyes – Phantom Blues – Privatemus
Jim Kweskin – Jug Band – Ella Speed – Garden of Joy – Reprise Records
Jim Kweskin and Geoff Muldaur – Downtown Blues – Penny's Farm – Kingswood Records
Anais Mitchell & Jefferson Hamer (In Studio) – Tam Lin
The Small Glories – Don't Back Down – Assiniboine and the Red – Red House
Doc Watson – Dill Pickle Rag – Foundation – Sugar Hill
Mavis Staples – Anytime – We Get By – Anti/Epitaph
Joel Rafael – Under Our Skin – Rose Avenue – Inside Recordings
Darden Smith – Love Will Win the War – Everything – Compass Records
---
Folk Alley's weekly, syndicated radio show is produced by Linda Fahey and Elena See with assistance by Redia Spada. The show is available for free to stations via PRX.org or directly from Folk Alley via Dropbox for non-PRX members. The Folk Alley Radio Show is presently carried on over 50 stations nationally.