Artist Spotlight: Happy Traum is Here to Remind Us of the "Bright Side"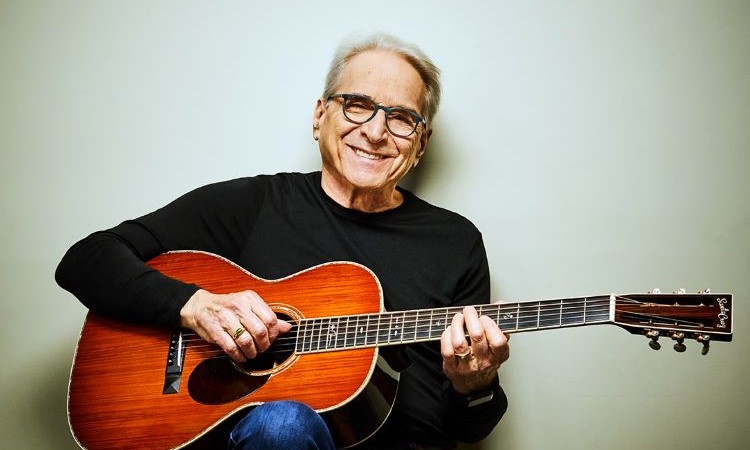 Happy Traum is one of those artists who's had a long career and yet remains somewhat of a well-kept secret. To be sure, in folk music circles Traum's legacy is secure. As he shows yet again on a new album titled There's a Bright Side Somewhere, his exceptional fingerpicking guitar is unrivaled, and he brings dazzling life to traditional and contemporary folk songs.
Traum has been at the forefront of folk music since 1963, when he gathered in the Folkways Records studio with Bob Dylan, Phil Ochs, Pete Seeger, and others to record an album called Broadsides, where Traum and his group, the New World Singers (Gil Turner, Delores Dixon, Bob Cohen) sang the first recorded version of Dylan's "Blowin' in the Wind." He sang a duet with Dylan on the latter's "Let Me Die in My Footsteps." (These tracks are available on the Smithsonian/Folkways Recordings box set The Best of Broadsides 1962-1988: Anthems from the American Underground.)
Happy Traum started his career in folk music by a happy accident. He went to the High School of Music and Arts in Manhattan, though he admits he didn't go there because he was especially interested in music. Then, one day, some of his friends took him to see a Pete Seeger concert: "I got up my courage to take the subway from the Bronx to Brooklyn," he laughs. That concert changed his life, and he started learning guitar and five-string banjo.
In 1958 and 1959, Traum took guitar lessons from the great blues guitarist and songwriter Brownie McGhee. "I'd take the subway from the Bronx to Brownie's on East 125 th Street and then walk up to his apartment, which was on the top floor of the building," Traum recalls. "I loved his guitar playing."
By the early 1960s, Traum was making his way down to Washington Square Park on Sunday afternoons to play all kinds of music with musicians who would become lifelong friends. "It was a wonderful scene," he says. "There were small circles gathered in every corner of the park. Some would be jamming on bluegrass, some would be doing folk, some would be doing old-time tunes. You could walk from one circle to another and join in. People would show me stuff. I became friends with Mike Seeger, Eric Weissberg, Tom Paley of the New Lost City Ramblers, John Herald of the Greenbriar Boys—and I became engaged with the music."
During that time, Traum and Dick Weissman formed a duo. "We would play basket shows at these little theaters in the Village," Traum says. "The theaters would run their plays, and then they'd clean up and open the theaters, about midnight, to have little folk concerts."
In 1962, Traum joined the New World Singers—"an existing trio that invited me to join, so it became a quartet." The group recorded an album, The New World Singers, on Atlantic two years later, which includes liner notes by Bob Dylan. They also released as a single the first recorded version of Dylan's "Don't Think Twice, It's All Right."
Traum played in and around the Village for the next few years before moving with his wife, Jane, his three children, and his younger brother Artie to Woodstock, New York, in 1967.
The year before, though, Traum and his brother Artie made a short-lived foray into rock music with their band, The Children of Paradise (Eric Kaz, Mike Silber, Bobby Columby), which released an eponymous album on Columbia Records. They returned to folk music quickly, though, appearing at the Newport Folk Festival in 1968 and 1969, garnering avid followers.
Back to being a folk duo, the pair of brothers released their first album on Capitol in 1970, Happy and Artie Traum. A second, Double Back, followed two years later. Artie died in 2008, but his spirit lives on in everything Happy does, and Happy continues to include songs that he and his brother wrote or performed on his solo records.
---
---
After he moved to Woodstock, Happy Traum engaged in another way to preserve folk music, by starting a series of recorded lessons from which students could learn various styles of playing on various instruments, from a wide range of musicians. From this effort, in 1967, Traum and his wife Jane started Homespun Tapes. "We started it at our kitchen table with a reel-to-reel recorder," he says and chuckles.
"We soon moved to cassette [and] got a high-speed duplicator, but eventually moved to VHS and then to DVD. Now we have transferred everything to digital." Homespun currently offers over 700 lessons from close to 300 instructors.
"My biggest thrill," Traum says, "was getting Pete Seeger, who was one of my biggest influences. The lessons are a treasure of roots music archives, and students get to hear and watch musicians like Seeger, Tony Rice, Sam Bush, among many others, talk about and play a certain style."
Jane, he says, "is the heart and soul of the business and does the graphic design. She influences every aspect of it." Traum's son, Adam, is also deeply involved in the business.
Traum has also written a number of instructional books for guitar. "In 1965, I had an idea for a book that no one had done," he explains, "to transcribe the guitar playing of Elizabeth Cotten, Mississippi John Hurt, Merle Travis, and others." He published Fingerpicking Style for Guitar, which remains in print today, and went on to publish others such as Bluegrass Guitar and The Blues Bag.
Traum continued to record albums, both as a solo artist and as a member of the Woodstock Mountains Revue, a collection of well-known folk and rock musicians—Bill Keith, Jim Rooney, John Herald, Roly Salley, Larry Campbell, Pat Alger, Happy and Artie—whose first album, Mud Acres, Music Among Friends (1972), was a bestseller. Traum's new album, There's a Bright Side Somewhere, evokes the infectious camaraderie of this group.
Traum says he started making the disc in 2019. "I hadn't done a record in seven years … so a little more than two years ago I started it," he says. "Dave Cook has this little studio, and I went in and cut a couple of songs live. We were off to a good start and then we couldn't do anything because of COVID."
The roster of musicians on the album includes Larry Campbell, John Sebastian, Byron Isaacs, Eric Parker, Amy Helm, Zach Djanikian, Eugene Ruffolo, Tony Trischka, and Adam Traum. All the songs were done in a single take. "The whole thing," he says, "was a labor of love … to be in the studio with the people I love."
The album opens with the title track, a gospel stirrer which Traum first heard from Mary Flower, featuring Helm, Djanikian, and Ruffolo on rousing background vocals and Campbell on mandolin. The infectious spirit of Traum's music flows out of this first track, and it feels as if we're in the studio with the group. The rest of the album has the same feel.
The instrumental "Santa Cruz Blues"—one of two Traum originals on the album—showcases Traum's innovation and fluid fingerpicking style.
"I had just gotten my new signature guitar, an HT/13 from Santa Cruz guitars, and I said to myself, let me see what I can do with it," he says. "I played this tune off the top of my head. Eric Parker was in the studio and sat in on drums."
Traum chose the familiar Appalachian ballad "Come All You Fair and Tender Ladies" and just  started playing around with it on his guitar. "I thought I'd like to make it a duet, so I sent it to Darol Anger and what he sent back was so strong. Larry Campbell said it was perfect."
The album also includes Traum's version of Dylan's "Farewell." "I literally learned it from Dylan in 1962 when he taught it to me and my group the New World Singers," he says. This version features Tony Trischka on banjo and Campbell on fiddle.
In addition, Traum always includes a song from his teacher and mentor Brownie McGhee on his albums. This time he chose "Living with the Blues." The album closes with a song featured on Happy and Artie's second album, "Love Song to a Girl in an Old Photograph." Cindy Cashdollar provides an ethereal slide guitar arrangement this time.
Happy Traum's new album provides an occasion for celebrating his legacy, for bringing his music to a wider  audience, and for diving yet again into the flourishing stream of American folk music.
---
There's a Bright Side Somewhere is available HERE.
Resources
HappyTraum.com
Tour Schedule
Music & Merch
Socials
Instagram – @happytraum
Facebook – @happytraum
Twitter – @happytraum
YouTube Channel