Album Review: Gregory Alan Isakov, 'Evening Machines'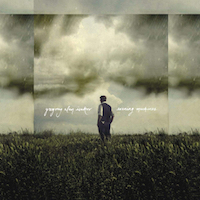 There is a far away look that people get in their eyes and somehow Gregory Alan Isakov is able to capture that in song. On his first LP in five years, Isakov's Evening Machines was self-produced in his Boulder County converted barn studio. The music is a more serious form of whimsy; it takes you away to a fantastical place, but it's extremely deep, very sincere and quite striking. It's not surprising this album was created mostly at night. Isakov would work hard into the night, surrounded by lit up consoles and various contraptions. The name "Evening Machines" came from that experience of solitude at night around his recording equipment.
Says Isakov, "I recorded mostly at night, when I wasn't working in the gardens. It doesn't matter if it's summer or winter, morning or afternoon, this music always feels like evening to me." That's not inaccurate of a statement as these songs create that feel of dusk settling rather quickly and dramatically into night. The atmospheric songs swirl around his tender voice, that sounds perfect be it along side a strumming acoustic or a muted, gentle piano (or both!). Also of note: Isakov is working in the gardens because he is a full time farmer. He would record when he would find time around the growing seasons, so the songs truly had time to develop and mature.
The music on Evening Machines is powerful, vulnerable and surprising. That's the best part of hearing this record on first listen; the arrangements go to unexpected and thrilling places. It's interesting to think that Isakov began his musical experience in punk bands, while being an avid death metal and grunge fan. The dynamics you hear on Evening Machines could be evidence of his youthful musical ventures. It certainly lends itself to a completely exciting and gorgeous record.
###
Evening Machine is out on October 5 via Dualtone Music Group and is available for pre-order now at iTunes and Amazon.