Album Review: Courtney Hartman & Taylor Ashton, 'Been On Your Side'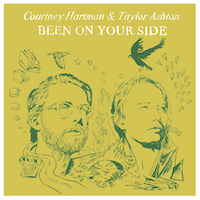 Courtney Hartman and Taylor Ashton are best known for the instrumental astuteness they contributed to their bands—Della Mae and Fish & Bird, respectively. But as a duo, these intuitive, artful musicians are able to shed light on their deeper musical impulses. While they rely on the bluegrass instruments that raised them, Hartman and Ashton, as a duo, are far more Simon & Garfunkel than Flatt & Scruggs.
On their collaborative debut, Been on Your Side (Free Dirt Records), the duo rests easily on its dexterous instrumentalism, but at the fore are their perceptive, emotive lyrics that flow like a river with cool, smooth harmonies floating atop. Tempos are sleepy and lyrics are bubbling over with natural imagery. The whole thing feels like walking through the woods just after dawn—you can almost hear the distant chirp of a bird, feel the brush of a weed against your ankle.
All of this—their friendship, artistry, and simple songwriting—is woven most perfectly together on the title track. It, as well as closing tune "Liza," is a glorious statement of friendship and unconditional love. "Been on Your Side" meanders through an atypical ABBCC rhyme scheme as it considers the hardships of life and the way friendship can sustain us. In between these sweetly concise lyrical passages, the duo's banjo and guitar noodle along, striking a balance between beauty and playfulness—a progression that perfectly matches the lyrical content.
"Meadowlark" is another easy highlight, about taking things as they come, remaining content during life's smallest, loveliest moments. ("All that I want is to sit with you.")
"Dead to Me" is a cool, comical, throwbacky soft-shoe that leaps from "I'm so in love with you" to "I'm done with you," pitting a dreamy-eyed lover against his paramour, who would rather he just shut up and go away. In the grace that is an album, this track is followed by an apologetic tune called "Better," which could be taken as a thematic follow-up, though the song stands perfectly well on its own, with some beautiful banjo work from Ashton. (Hartman's guitar was the standout on "Dead to Me.")
These are two masterful players and songwriters who clearly take seriously their commitment to their craft. In a press release, Hartman noted, "I am fascinated by the life of songs. … I guess they're like frames that you can see life's seasons or certain relationships through."
Indeed, there's nothing grandiose or extraordinary in these songs, which is what makes them ring so true. But there is subtle poetry, and these songs frame their writers well.
###
Been On Your Side is available at iTunes, Amazon.com, or Bandcamp.